Vue.JS Code Consulting & Development Services
As the leader in Vue.JS software development, we give your company the access to the most creative thinkers in the Vue.JS front-end framework with a JavaScript library.
Vue.JS is a powerful front-end framework with a JavaScript library. Outsourcing of Vue development.js with Mobile Reality gives you access to development engineers who provide customers from various industries with comprehensive product creation services Vue.JS. We undertake any task, regardless of the complexity and requirements of the project.
Book a consultation
Famous Apps Built Using Vue.JS
Objective advantages of Vue.JS
The advantages of developing on Vue.JS are relevant for both programmers and customers
One of the main advantages of this framework
What we can give your business with our Vue.JS solutions
Why work with Mobile Reality?
Owners and maintainers of Open Source projects
Experienced in working with a wide range of clients, from startups to enterprises
Hire us!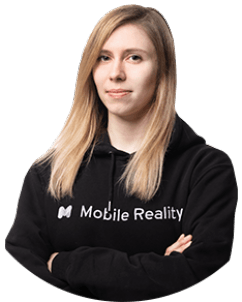 What do you think about exploratory chat?
Magdalena Dembna - Frontend Expert/Vue.JS Expert
Related articles
Top 5 Vue.JS tools and libraries 2023
Vue.js is an open-source JavaScript framework for building user interfaces and single-page applications. With its simplicity, flexibility, and ease of use, Vue.js has quickly gained popularity among developers and businesses alike.
Break the rules. Do it your way!
Request a call today and get free consultation about your product with our specialists. First working demo just in 7 days from the project kick‑off.
Matt Sadowski
CEO of Mobile Reality