NFT & Blockchain solutions
Unlock the power of NFTs and blockchain technology with our cutting-edge solutions. Secure and transparent transactions are guaranteed.
What we specialize in
Unlock your business potential with our NFT & blockchain solutions. Mobile Reality experts provide the insights to make your vision a reality.
NFT Marketplaces
Explore the growing world of NFTs with our trusted and curated marketplaces. Discover unique digital assets and invest in the future of ownership. From collectibles to virtual real estate, our marketplaces offer a wide range of NFTs to suit your interests and investment goals. Join the NFT revolution and own a piece of the digital world today.
Smart contracts development
Transform your business with our innovative contract development services. Our team of experts specializes in creating secure, efficient, and decentralized smart contracts on various blockchain platforms. From supply chain management to real estate, we can help you automate processes, reduce costs and increase transparency in your business operations. With our innovative contract development, you can trust us to bring your business to the next level.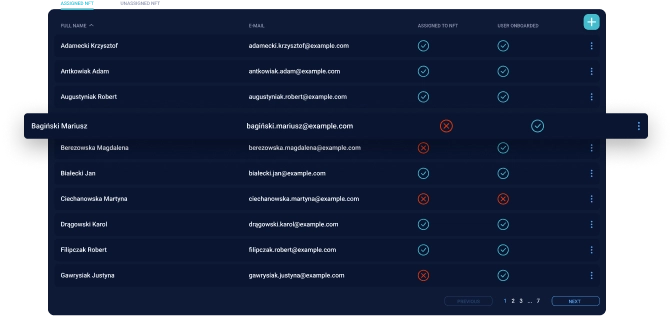 Business-driven development
Achieve your business goals with our business-driven development services. Our team of experts creates custom solutions tailored to your business needs. Whether it's streamlining operations, automating processes, or creating new revenue streams, we work closely with you to understand your business objectives and deliver results.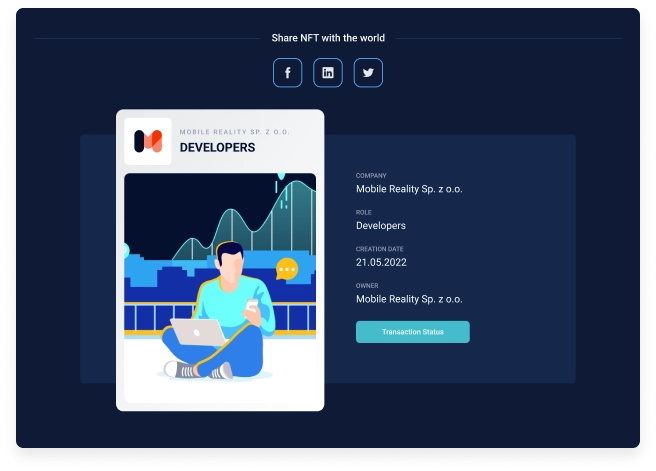 Maximize your business potential with our Blockchain solutions
We have covered everything from redesigning and developing blockchain apps, scaling teams, and enhancing UX to creating DApps and Smart Contracts.
Security
Blockchain technology produces a structure of data with inherent security qualities. It's based on principles of cryptography and decentralization.
Decentralization
Decentralization ensures that the blockchain is not governed by an individual, group, or even the government.
Transparency
Blockchain network users have the ability to access holdings and transactions of public addresses using a block explorer used to search the blocks of a blockchain.
Instant payments
Blockchain technology lets you facilitate fast, secure, low-cost international payment processing services
Solve your business problems with our quality-driven approach
Our team gathers information about your business and market before starting a project to deliver effective solutions. We don't just create mobile apps. We specialize in solving unique business challenges with custom solutions. Trust us to provide complex services like booking systems, calculators, and data accounting that standard solutions can't handle.
Break the rules. Do it your way!
Request a call today and get free consultation about your product with our specialists. First working demo just in 7 days from the project kick‑off.
Matt Sadowski
CEO of Mobile Reality