careers
Hi we're Mobile Reality
let's grow & learn
live our lifes to the fullest
join us and let's change the digital world together
but let's do this differently.

let's do this our way!
Perks & benefits
Remote work

International projects and teams

Flexible working hours

Flat structure

"Dzień Kompilatora"

Private health insurance

Employment insurance

Multisport card

Company parties

Supportive

Paid days off/sick days of B2B contract

English lessons

Legal quardianship

Charity initiatives

Sport challenges

Internal technical workshop

Healthy company culture

Working in Agile/Sctrum/Kaban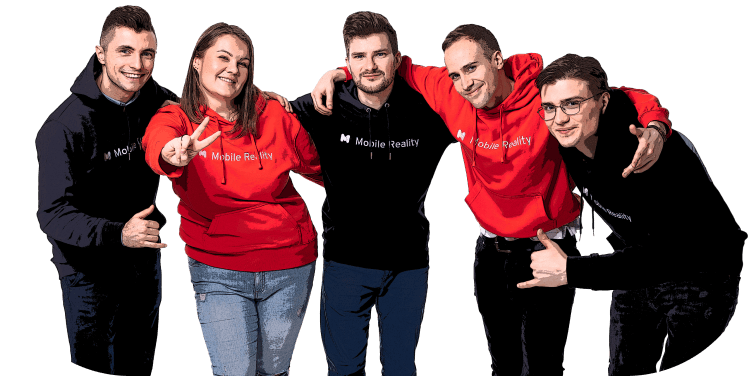 What does our team say about us?

We have a team of

amazing people

who make our company great! Read their inspiring stories and find out

why they love working here!
At Mobile Reality, we care about a healthy approach to work and work-life balance. We respect the free time and recommend our team to develop their passions, practice physical activity and rest.
Przemysław Król
UI/UX Designer
Who are we looking for?
React Native Developer (Mid/Senior)
14 000 - 18 000 PLN + VAT
Check offer
Didn't find what you're looking for?
No worries, and send us your application.
Newsletter about our projects, tech news, blog articles, and daily life of the Mobile Reality team.