Java Script Code Consulting & Development Services
The experience and skills of our JS developers allow us to create large-scale and at the same time easy-to-use products: from websites and mobile applications to high-performance desktop widgets.
JavaScript is a multi-paradigm programming language that supports object-oriented, imperative, and functional styles. It is used to create interactive dynamic web pages, that is, it helps to make your site more responsive. Everything that the user clicks, enters, edits, or opens on the website is possible thanks to JS. Mobile Reality has years of experience in creating apps using JavaScript technology. As the leader in JavaScript software development, we give your company access to the most creative thinkers in JavaScript web development as well as other front-end technologies.
Book a consultation
Famous Apps Built Using JavaScript
JavaScript is one of the leading languages in the world
The consistently high interest in Javascript is confirmed by special international ratings. These indexes are analytical data based on:
Queries by programming languages in search engines
Questions on professional forums
Projects implemented using various technologies
Vacancies for programmers from the largest recruiting agencies
Ratings that confirmed the leading of JavaScript Technologies
PYPL (Popularity of Programming Language)
An authoritative rating, based on the data of the largest Google SE search engine. Javascript is in the top three.
Stack Overflow
This index analyzes the number of questions on languages and tools in professional communities. Here Javascript confidently occupies a eading position
W3Techs
World Wide Web Technology Surveys. The basis of the indicators is the number of web projects using certain echnologies. Select the client interfaces section. We see that Javascript has no competitors in it, it is the main tool.
Objective advantages of JavaScript
The advantages of developing on JavaScript are relevant for both programmers and customers.
Javascript is popular not by chance, but because of its undoubted advantages.
Business benefits
Why hiring certified JavaScript developers will give you a business competitive advantage:
Efficient, cost-effective, and scalable solutions for your business in terms of future development
Lower cost of maintaining the app and fixing the bugs
Opportunity to get the top-notch know-how and transfer it to your internal team
Why work with Mobile Reality?
Owners and maintainers of Open Source projects
Experienced in working with a wide range of clients, from startups to enterprises
At Mobile Reality, we understand the importance of having a robust and efficient backend for your mobile reality applications. That's why we offer top-notch JavaScript development services to help you build scalable and reliable backend systems.
We use agile development methodologies to ensure that our JavaScript solutions are flexible, adaptable, and can quickly respond to changes in business requirements. Our developers are skilled in working with various JavaScript frameworks, including Express.js, Socket.io, and Hapi.js, and can help you select the best framework to suit your project's specific needs.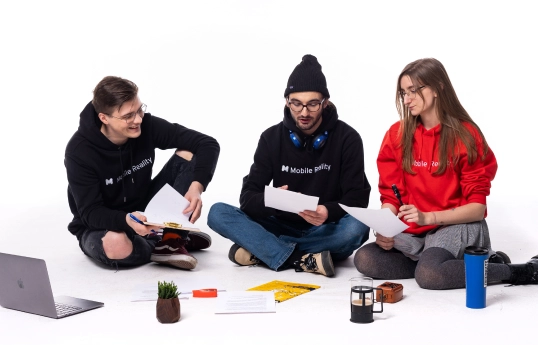 We take a collaborative approach to development, working closely with our clients to understand their requirements and provide custom solutions that exceed their expectations. Our JavaScript developers are dedicated to delivering high-quality work within budget and timeline constraints, ensuring your project is completed on time and within budget.
Break the rules. Do it your way!
Request a call today and get free consultation about your custom software solution with our specialists. First working demo just in 7 days from the project kick‑off.
Matt Sadowski
CEO of Mobile Reality