Machine learning and data science solutions for business
Leave your competition behind with complex machine learning and data science solutions with R technology
Book a consultation
Advantages of machine learning
The advantages of machine learning are relevant for both business owners and their customers.
Business benefits
Companies use Data Science regardless of the size of the business, statistics from Kaggle (a professional social network of data specialists) show. And according to IDC and Hitachi calculations, 78% of enterprises confirm that the amount of information analysed and used has increased significantly recently. Here are just a few examples of industries that use Data Science to solve their problems:
Online trading and entertainment services
Recommendation systems for users
Health care
Disease prediction and recommendations for maintaining health
Logistics
Planning and optimization of delivery routes
Digital advertising
Automated content placement and targeting
Finance
Scoring, fraud detection and prevention
Industry
Predictive analytics for repair and production planning
Real estate
Search and offer of the most suitable objects to the buyer
Public administration
Forecasting employment and economic situation, fighting crime
Sports
Selection of promising players and development of game strategies
And this is just the shortest and most superficial list of Data Science usage. The number of different cases using "data science" increases exponentially every year.
R Use Cases in IT Sector
Microsoft uses R as a statistical engine within the Azure Machine Learning framework. They also use it for the Xbox matchmaking service.
R works behind-the-scenes on Foursquare's recommendation engine.
Mozilla uses R to visualise web activity for their browser firefox.
Google uses R to improve its search results, to provide better search suggestions, to calculate the ROI of their advertising campaigns, to increase the efficiency of online advertising and to predict their economic activity.
Why work with Mobile Reality?
Owners and maintainers of Open Source projects
Experienced in working with a wide range of clients, from startups to enterprises
At Mobile Reality, we understand the importance of having a robust and efficient backend for your mobile reality applications. That's why we offer top-notch R development services to help you build scalable and reliable backend systems.
We use agile development methodologies to ensure that our R solutions are flexible, adaptable, and can quickly respond to changes in business requirements. Our developers are skilled in working with various R frameworks, including Express.js, Socket.io, and Hapi.js, and can help you select the best framework to suit your project's specific needs.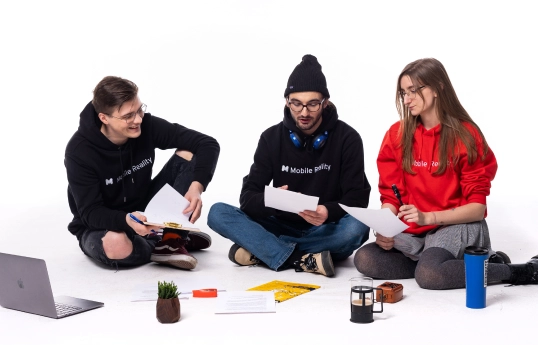 We take a collaborative approach to development, working closely with our clients to understand their requirements and provide custom solutions that exceed their expectations. Our R developers are dedicated to delivering high-quality work within budget and timeline constraints, ensuring your project is completed on time and within budget.
Break the rules. Do it your way!
Request a call today and get free consultation about your custom software solution with our specialists. First working demo just in 7 days from the project kick‑off.
Matt Sadowski
CEO of Mobile Reality