Flow & Cadence Blockchain Services
Mobile Reality helps companies to explore various methods to effectively optimize their business using Flow & Cadence Blockchain Services. We analyze individual products and services that make it easy to implement a full-fledged blockchain infrastructure, assessing its innovative potential for your business.
Book a consultation
Objective advantages of Flow & Cadence
Experts highlight the following advantages of the technology
Business benefits
The most popular tasks that the blockchain solves:
Allows you to confirm the authenticity and origin of the goods
Distributed registry technology — blockchain — is a good tool for combating counterfeit and counterfeit products. So, for retail chains that work with a large number of suppliers, blockchain helps to increase and strengthen the trust of buyers. The technology allows you to track the entire supply chain, starting from the manufacturer, and you can check products for compliance with environmental and other standards.
Increases the security and transparency of financial transactions
As a result, the market is better protected from fraudsters. In addition, blockchain reduces costs and shortens the timing of cross- border payments, which makes financial services available to a wide range of people.
Helps to resolve disputes
The data that is recorded in the blockchain cannot be corrected or erased. Therefore, when resolving a conflict situation, you can be sure of the authenticity of the information.
Why work with Mobile Reality?
Owners and maintainers of Open Source projects
Experienced in working with a wide range of clients, from startups to enterprises
Hire us!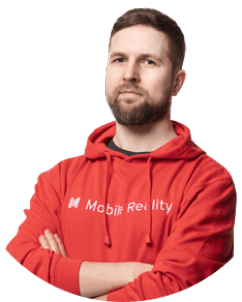 What do you think about exploratory chat?
Leszek Kopeć - Backend Expert/Flow & Cadence Expert