Business

Myths about data in business
Stanislav Naborshchikov
Solutions Specialist
Table of contents
Share the article
Introduction
Business analytics (or Business Intelligence, BI) in business  is less talked about today than Big Data or artificial intelligence. When we hear about Big Data, we immediately think of a tech future. When we hear about business analytics, we alway think about  something expensive and clumsy. The more widely data is used in business, the more myths arise around them. Maybe it's the myths that have developed around BI? After all, business analytics appeared a long time ago. It has developed more as a tool for solving specific practical problems. BI is used almost in am all large companies, however, it is still rarely used by medium and small businesses.
Today, business analytics is a very simple way to apply information technology in order to succeed in business. But misconceptions and stereotypes can become an obstacle and that's the main reason why we've decided to write this article and dispel some most common myths around data in business.
Myth #1
There is enough data in my accounting program to make management decisions
Imagine a fast-food chain of 50 restaurants. There are several cash registers in each of the restaurants, they serve hundreds of customers every day.
To manage such a business, you need to monitor several performance indicators of each of the restaurants. But the source data, without which these indicators cannot be obtained, are in different systems. Information about receipts is in the R-Keeper cash register system, about purchases - in the 1C accounting system, about workers - in a separate system for which HR workers are responsible. Moreover, all data is created in different ways, with different frequencies, and stored in different formats. For example, the R-Keeper cash register system saves receipts automatically, and employee data is entered manually by HR specialists.
Without any business analytics, you can find out how many people have served our restaurant in Warsaw or NY for today. To do this, it is enough to turn to the R-Keeper database and get the number of checks punched by the ticket offices of this restaurant. Let's say we found out that there were 300 checks today. Does this really tell us something? Probably not. It is difficult to say whether it is a lot or a little — at least until we compare it with some other indicators. The simplest thing is to compare 300 of today's checks with the same indicator of yesterday. Or with the indicator of the same day a year ago. For example, yesterday there were 400 checks, and a year ago — 200. Such a comparison is already a report and can say something to us. Creating such a simple report does not require any special tools or knowledge. If the work of R-Keeper has not changed, then today the system records all receipts in the same format as a year ago. It's very easy to take the data and see how many visitors the restaurant served every day and how this number changed. However, such a report, as well as a separate figure of 300 visitors per day, also does not mean anything. Because the restaurant used to close at 6 p.m., and now it works around the clock. Previously, it sold set meals, on which the chain earned money, and now - only cheap hamburgers, on which the network loses money. There can be a lot of factors that can instantly change the assessment of the restaurant's work to the opposite.
How do I find indicators that I can rely on? How do I get a report on the basis of which something can be decided — should we urgently dismiss the director of a restaurant in Warsaw, or maybe vice versa, give him a bonus?
The answer is simple. The report should take into account different aspects of the company's work. In the example of a restaurant chain, this will be the report that will allow you to compare revenue, traffic (number of visitors), some employee performance indicators, cashier workload, assortment. Obviously, the source data for creating such a report is always in different systems and has a different format.
An example of the simplest and moreover "complementary" indicator, which is often used in the restaurant business— is a coefficient showing the productivity of one employee per hour. It is called Labor Cost or SPMH (Sales per Man Hour).
Labor Cost = personnel costs / revenue
We can say that any business resembles a puzzle. The database of the accounting program contains only fragments. In other systems, there are others. The task of BI is precisely to collect all these fragments from different places and turn them into a single picture. We won't know what's drawn until we put the puzzle together.
Myth #2
Business analytics is expensive and only available to large companies
"How much will it cost?" — it is probably the first question that an IT specialist hears when he's offering someone a new tool for data in business. Today, many people think that business analytics is something very expensive and too hard for them to understand. Therefore, it is available only to organizations with a large budget or with a lot of internal resources.
Indeed, 5 years ago, without the involvement of consultants, it was difficult even to answer the question "how much does it cost?" However, today it's not like that anymore.
Previously, in order to use business analytics, it was necessary to launch a large-scale project. IT specialists, IT system architects, and analysts participated in the project. It was necessary to determine in which systems and in what form the necessary information is located, then design a data warehouse (DW, data warehouse), to form a data storefronts and then to form an OLAP cubes. An only after all of this data - reports will be created. For an average company, the project like this one, costed about $100,000.
The key stage on the way to the analytical report was the so-called OLAP cube. This is a multidimensional object in which all the data for the report has already been calculated. If something is missing in the OLAP cube, then it will not be in the report either. To include new data in the report, you need to rebuild the OLAP cube. This requires a number of steps that cannot be done without IT and data specialists.
Business analytics has been changed by the rapid development of in-memory computing technology. When data is processed in RAM, the extraction process is very fast. So it became possible to create new analytical reports almost on the fly. This made it possible to abandon OLAP cubes — one of the most time-consuming and slow stages of obtaining a report.
The rejection of OLAP cubes led to a simplification of the architecture of BI systems. There are BI platforms that are available for small companies. Such platforms are offered today by Qlik (Qlik Sense product), Tableau Software, Microsoft (MS Power BI). These products are simply licensed and allow you to start working with your data quickly, without involving IT specialists.
So, previously, in order to just try business analytics, you had to have at least $100,000. Now you can create a BI system for free - by spending your own time and using a trial license for the BI platform.
Myth #3
Data management and information security still live separately from each other
This state of affairs may lead to problems with the law in the future. Companies in Europe are already facing such problems due to the GDPR (General Regulation on the Protection of Personal Data). What to do? It is necessary to implement Data Governance in order to know about all the data that is stored in the company and effectively search for those that require protection. It is better to mask confidential and sensitive information – a user without access will see a set of characters instead of real data. Working with data is increasingly becoming interdisciplinary. The functions of data specialists and information security specialists will only converge in the future.
To successfully monetize big data, it is important to separate myths from real facts. Sometimes it's not easy. But the game is worth the candle, there are more and more successful Big Data projects in the world now. 
Myth #4
Employees of companies are happy to introduce new technologies
When developing new data projects, you need to take into account that not all employees of the company will be happy to support your initiative. And data-related initiatives involve the involvement of a large number of people at different levels and from different departments. In particular, such involvement plays an important role for strategic data management - Data Governance, to ensure global data quality.
From a business point of view, such projects are beneficial. From the point of view of an ordinary employee, they can pose an additional burden or threat: data analytics can show errors in people's work. It is necessary to foresee everything in advance, to agree, to take into account the interests of all parties involved. At the same time, the involvement of the organization's management is mandatory.
Ready to start data science project?
Do you look for a data science services company to help analyze and understand your data sets and generate additional value from it?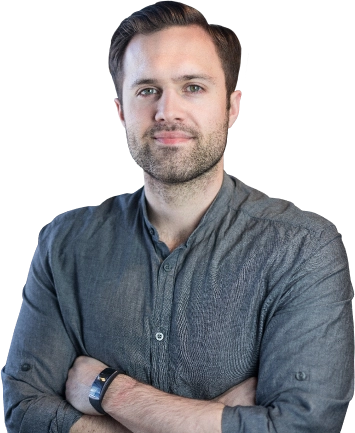 North America
hello@themobilereality.com
European Union
hello@themobilereality.com
Did you like the article?

Find out how we can help you.
Matt Sadowski
CEO of Mobile Reality